Motocultor Festival 2023 - Pass Samedi
Site De Kerampuilh - Carhaix, Carhaix.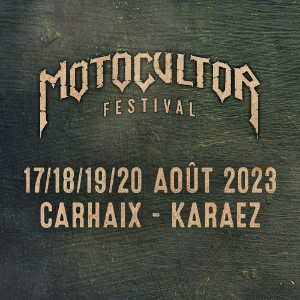 Plongez dans le line-up 2023 du MOTOCULTOR FESTIVAL Open Air !
Samedi 19 août 2023 : Amenra † Birds in Row † Bleed From Within † Brutal Sphincter † Brutus † Bullet For My Valentine † Coilguns † Der Weg Einer Freheit † Dog Eat Dog † Gatecreeper † Little Big † Ludwig von 88 † Pénitence Onirique † Rectal Smegma † Russian Circles † Sylvaine † The Acacia Strain † The Toy Dolls † Washington Dead Cats † Watain + TBA
† L'accès au camping est compris dans votre billet
† Les billets Motocultor Festival 2023 seront à demi-tarif uniquement sur place pour les moins de 18 ans
† Le festival est gratuit pour les moins de 12 ans
Plus d'informations sur les billets Motocultor Festival 2023 - Pass Samedi
Créé en 2007, la XIV édition du Motocultor Festival se déroulera les 17,18,19 et 20 août 2023 à CARHAIX (29). Mettant en avant la culture Metal, le festival accueillera une centaine de groupes sur quatre jours et répartis sur quatre scènes.

Festival à taille humaine et convivial avec une jauge maximale de 15 000 personnes par jour. 2023 devient synonyme de tournant historique pour le Motocultor Festival. En déménageant en centre-Bretagne, le festival continue son projet culturel, de faire venir une majorité de groupes internationaux, de mettre en avant la scène Metal régionale et émergente, ainsi que plusieurs artistes traditionnels bretons.